We wish to inform you that our company earned ISO 28000:2007 certificate.
The scope of certification is the realization of transport services by cars with DMC to 3,5 tons. It is important to say that express transportation is our specialization, and starting June we will have in our fleet a helicopter that will allow us to deliver the packages even faster (more details soon).
We improve the quality of managing the delivery chain on a regular basis. It's not the first time that we meet the high expectations of our wonderful and this is another step in reaching even greater perfection.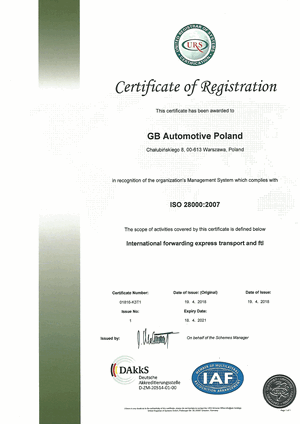 Special thanks should be directed to our clients for the current fruitful cooperation. At the same time we invite new companies interested in collaborating with us.
We guarantee delivers on time, in our hands your products will reach their destination safely and accordingly to the fixed dates.